AstroVis_Guide - Kennzahlen und Bildfeld-Simulationen
AstroVis_Guide - Key figures and field of view simulations

Für meine eigenen Analysen und für interessierte Astronomie-Freunde habe ich mit dem AstroVis_Guide eine Software entwickelt, die alle relevanten Kennzahlen für ein individuelles Setup bestehend aus Teleskop, Kamera, Guidescope, Guidecam, Okularen und Filtern in einer Transaktion berechnet.

Um auch die Auswirkungen des individuellen Setups auf das Bildfeld (Teleskop, Kamera), die Vignettierung (Kamera, Filter), und des Sichtfeld (Teleskop, Okular) ausgesuchter Nebelfelder oder Galaxien sichtbar zu machen, habe ich eine Vielzahl von grafischen Analysen für konkrete Aufnahmen in der Bildfeld-Gallerie implementiert.

Natürlich freue ich mich auch über ein Feedback zum Nutzen dieser Software. Wer möchte, kann mir auch einen Link zu einer schönen Widefield-Aufnahme in voller Auflösung schicken mit den Informationen zu dem verwendeten Equipment (Teleskop, Kamera, Brennweite (Reducer, Barlow), Filter und Okular). Ich bereite die Daten dann auf und übernehme sie natürlich mit Copyroght und Link zur Originalaufnahme in die Datenbank. Die Analysen stehen dann allen Astrofreunden zur Verfügung.


For my own analyzes and for interested astronomy friends, I have developed the AstroVis_Guide software that calculates all relevant key figures for an individual setup consisting of telescope, camera, guide scope, guide cam, eyepieces and filters in one transaction.

In order to make the effects of the individual setup on the image field (telescope, camera), the vignetting (camera, filter), and the field of view (telescope, eyepiece) of selected nebulae or galaxies visible, I have a variety of graphic analyzes for specific recordings implemented in the image field gallery.

Of course, I would also be happy to receive feedback on the use of this software. If you want, you can send me a link to a nice widefield picture in full resolution with information about the equipment used (telescope, camera, focal length (reducer, Barlow), filter and eyepiece). I then prepare the data and of course transfer them to the database with copyright and a link to the original image. The analyzes are then available to all astro friends.


AstroVis_Guide - Initial screen with parameters and key figures

FoV Gallery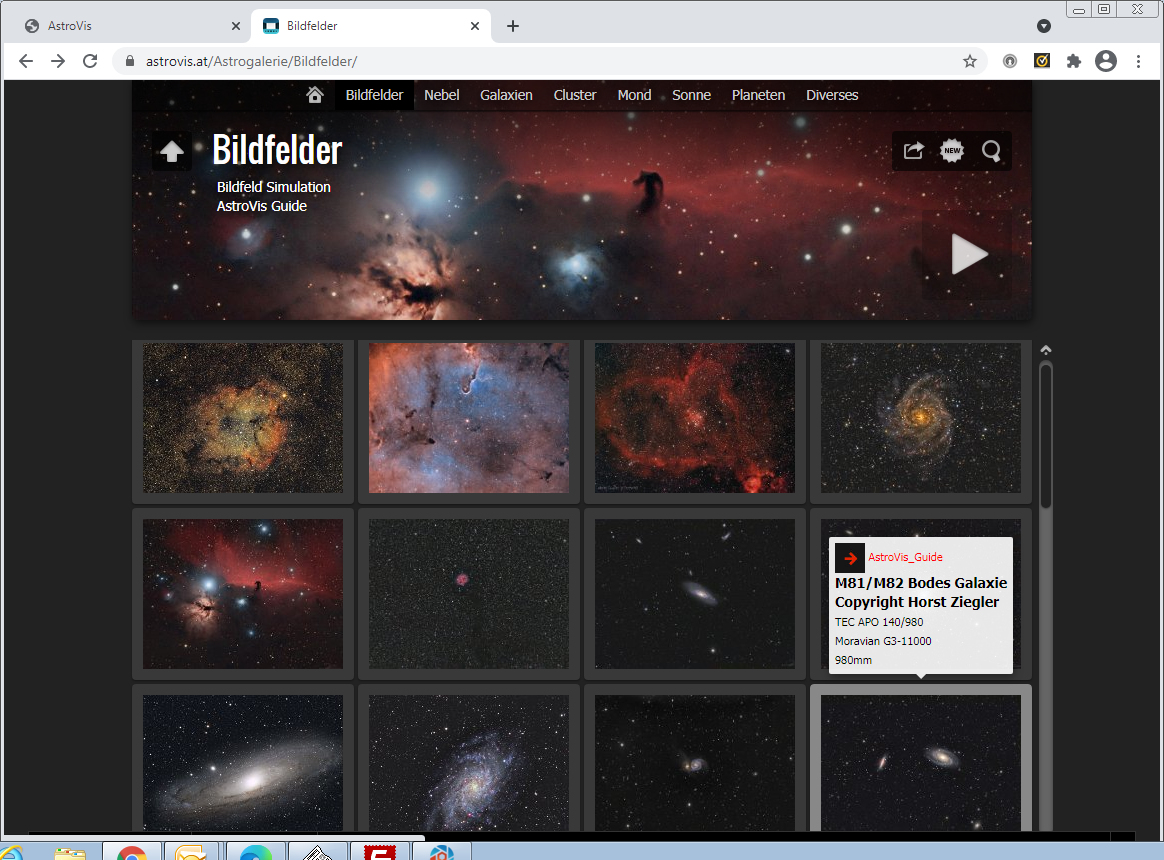 M81/M82 Image selection - Left upper corner original image parameters - Yellow box: FoV based on simulated telescope with focal length and camera parameters, red circle: vignetting with camera and filter, green circle: FoV with eyepiece

M81/M82 Zoom Image selection with mouse over NGC3077

M81/M82 Size Image selection with size calculation of M81 (2 clicks)

NGC6514 Zoom Image selection of interesting areas in the field with mouse over and scroll

NGC6514 Size Image selection with size calculation of objects from the selection box (2 clicks) based on the distance.

NGC6514 Loca selection with RA/DEC calculation for GoTo different objects in the field. Helpful if you want to center your scope between named objects